Sigfox Germany again expands its 0G product portfolio
Sigfox Germany adds Simple Hardware to the linecard

Broad 0G product portfolio for a wide range of applications

A highlight: The 0G button for 10 years maintenance-free operation
Munich, April 28, 2020 - Sigfox Germany is expanding its product portfolio of smart, 0G network-based IoT sensors with solutions from the new linecard partner Simple Hardware. Simple Hardware is an internationally operating Sigfox hardware producer, which specializes in the development and sale of Sigfox 0G devices and offers a broad portfolio of application-ready 0G products. The product range extends from 0G network coverage meters to flexibly designed 0G devices that can be operated maintenance-free for 10 years. Products from Simple Hardware are characterized by their high quality, have extremely attractive pricing compared to competitive solutions, and offer comprehensive cloud support for Amazon AWS, MS Azure, IBM Watson, Salesforce, SAP, and 200 other IoT platforms. Target customers are primarily OEMs and system integrators who develop their own cloud platform offerings and IoT-based services based on the hardware of Simple Hardware. Large commercial end users also receive end-to-end solution offers through Sigfox Germany.
"The focus on Sigfox 0G device development makes Simple Hardware an ideal partner for OEMs and system integrators. For this purpose, Simple Hardware products such as the SimplePack button, SimplePack tracker or SimplePack temperature meter offer a really sophisticated and powerful firmware including open-source documentation as well as the possibility to customize the devices with .Net, PHP, Python, React and/or Angular to the individual application needs. This makes the solutions from Simple Hardware, which are already manufactured in batches of 100,000, universally applicable," - explains Elena Sztochay, Director Solution Sales at Sigfox Germany, who is responsible for building up the product portfolio.
"We are very much looking forward to serving the very dynamic and fast-growing German 0G market even faster and more efficiently with Sigfox Germany. Although it's not far from Prague, we can now serve German customers even faster and better via Sigfox's Munich office. In addition, many inquiries are also being received here, which the Sigfox Germany team can now serve very efficiently with our broad product portfolio,"-  says Pavel Sodomka, owner and business strategist at Simple Hardware.
For Sigfox Germany, cooperation with sensor manufacturers such as Simple Hardware is an important element in expanding the range of solutions for digitizing the German economy. They form the decisive foundation for IoT projects that Sigfox implements together with OEMs, platform providers, and system integrators on a turnkey basis. This allows customers to concentrate fully on their core competencies and leave digitization to a team of experts who do nothing else but seek and implement the best solution for customers on a daily basis. 
The two most important product lines at a glance.
Currently, the two most important Simple Hardware product lines for Sigfox Germany are the CheckFox 0G network coverage meters and the wide range of multifunction buttons in the SimplePack product line, which the company also offers with extended sensor technology.
CheckFox is an easy-to-use Sigfox 0G network coverage meter. Thanks to its integrated GPS, it provides accurate geo-information and logs the respective measurement data both in the local device memory and in the multifunctional cloud dashboard of the device. It records time, GPS position and GPS signal strength, altimeter, Sigfox geoposition, and Sigfox signal strength (RSSI, SNR, repeats, and TAP ID) as well as acceleration, orientation, speed, temperature, and battery voltage. The additional storage of user-defined tags also makes it easier to identify the measurement data.
SimplePack Plus 4.0 is a multi-sensor device with Sigfox 0G-based IoT connectivity, which has a 10-year battery life for 30,000 messages and offers numerous additional functions depending on the integrated sensor technology. With a WLAN sensor, it not only sends messages at the touch of a button but also sends location data accurate to 30 meters. With an acceleration sensor, it can also provide motion profiles. Temperature, brightness, and leakage sensors, as well as magnetometer and an LED for function and operation acknowledgment, are further options. Typical applications for the SimplePack Plus 4.0 device, which is available for OEM and industrial end-users in embedded or housed versions, include demand notifications and orders as well as emergency calls, maintenance requests, and remote control applications. If the actuation information is enriched with geolocation and motion data, numerous additional functions are possible.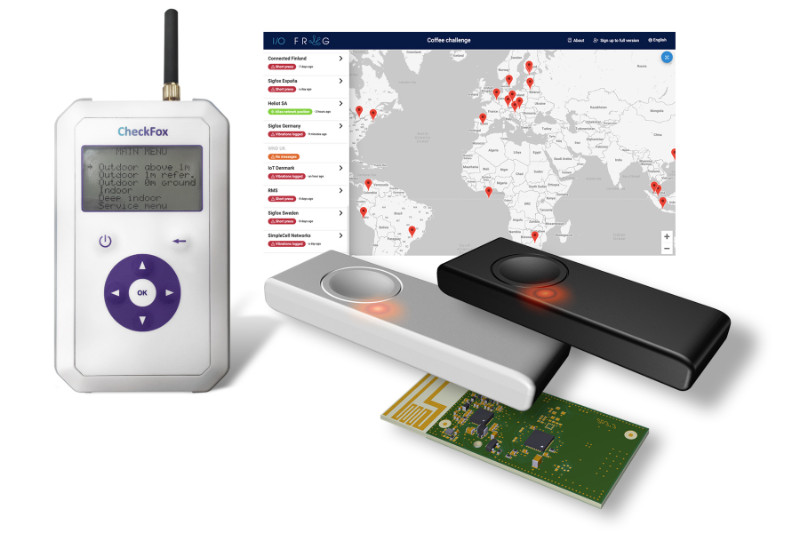 Original source: Sigfox Germany expands its 0G portfolio 
PDF document: here