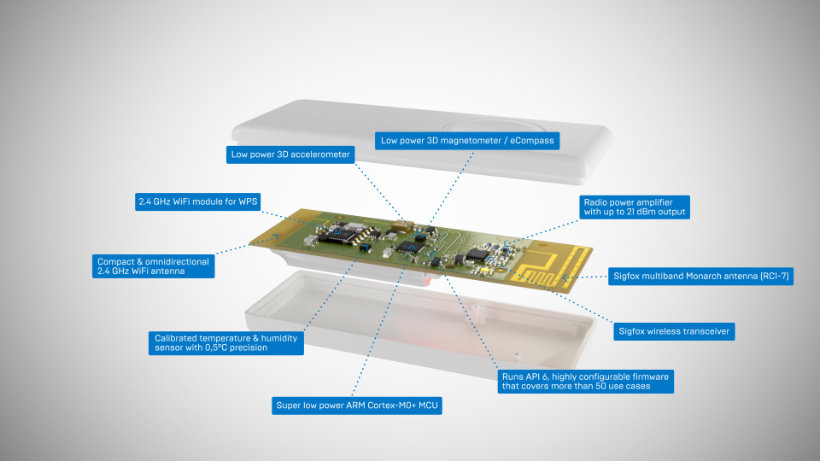 A lot has changed since we launched SimplePack 3.0 one and a half years ago. We are proud to introduce now SimplePack 4.0. The aim of the development was to provide:
better radio performance

better battery life

better WiFi performance for WiFI tracking

more tracking specific modes

more modes for cold chain monitoring

more modes with redundancy

support of Monarch and of RC7
It is more evolutionary than revolutionary improvement but important nevertheless.
The format of uplinks and downlinks stays the same as well as support from the www.iofrog.com platform.
Better radio performance
We are constantly tuning the radio parameters and we are achieving 2dBi better performance in comparison with the early 3.0 versions
Better battery life
Even though the message transmission consumption stays the same we were able to improve idle consumption in most of the modes. Also, the WiFi scan is lower now
Better WiFi performance for WiFI tracking
In early versions of 3.0 we had used active WiFi scanning. We now use exclusively passive WiFi scanning mode that sees even hidden SSIDs and has better sensitivity
More tracking specific modes
Based on customer requests we added quite a few modes for tracking plus enabled independent event reporting
More modes for cold chain monitoring and more modes with redundancy
A prime example is a new mode for Periodic temperature measurement that enables you to record the precise temperature every 5 minutes and stay on batteries for 4 years, while warning you of any temperature increase or threshold crossing immediately and at the same time having redundancy (so you can lose messages without losing any information).
Support of Monarch and of RC7 
We have upgraded to the latest Monarch libraries and added RC7 support for Russia
For the next edition, we are working mainly on Over the air local broadcast configuration and firmware update.
We are only slightly changing the names of some of the products to better match the use cases while keeping the prices the same. Magnetometer is now available as a standard in the Door edition only. Buzzer is available upon request.
See the table:
| | | | |
| --- | --- | --- | --- |
| Name | | Feature | MOQ* |
| SimplePack 4.0 Basic | €18 | Button plus accelerometer (tilt, orientation, shock, rotation) Atlas tracking with 10 000 messages | 1 |
| SimplePack 4.0 Plus Button | €20 | Button with 30 000 messages | 1 |
| SimplePack 4.0 Plus Orientation and Motion  | €22 | Button plus accelerometer (tilt, orientation, shock, rotation) Atlas tracking | 1 |
| SimplePack 4.0 Plus WiFi Tracker | €25 | Button+accel.+WiFi tracking | 1 |
| SimplePack 4.0 Plus Precise temperature | €25 | Button+accel.+precise temperature | see e-shop |
| SimplePack 4.0 Plus Door Compass | €25 | Button+accel.+magnetometer | see e-shop |
| SimplePack 4.0 Plus Reed Switch | €25 | Button+accel.+reed switch with an external magnet | see e-shop |
| SimplePack 4.0 Plus PoC (Proof of concept) | €35 | Button+accel.+WiFi tracking+precise temperature+light sensor+accelerometer+reed switch | 1 |
| SimpleLeak | €19 | Leakage, frost and temperature guard | 1 |
| | | | |
| --- | --- | --- | --- |
| Name | | Feature | MOQ* |
| SimpleMeter | €28 | Temperature and humidity meter with 10 years battery life | 1 |
| SimpleIndustry Orientation and Motion | €27 | Accelerometer (tilt, orientation, shock, rotation) Atlas tracking 100 000 msg. | see e-shop |
| SimpleIndustry WiFi tracker | €30 | Accel.+WiFi tracking | 1 |
| SimpleIndustry Temperature (external on a box) | €30 | Superfast and precise temperature + accel. with 10 years battery life | 1 |
| SimpleIndustry Temperature (external on a box) plus WiFI tracker | €35 | Temp.+WiFi | see e-shop |
| SimpleIndustry Hot external.temp | €55 | Superfast and precise temperature up to 105°C | see e-shop |
| SimpleIndustry with external switch or reed switch | | Project-based | see sales |
| Embedded SimplePack | | Project-based | |
| Custom variants |   | Adding buzzer or any custom sensor combination | see sales |

MOQ* Minimum order quantity in case it is not in stock