Do you want a cup of coffee? This question is asked many times a day in the SimpleHW office.
Since last year, when we decided to launch a worldwide coffee machine monitoring project, many things have changed. One of them is hiring an AI & machine learning intern for our SimpleHW team. In this read, we will tell you more about it.
Julien Mongin joined our team for 7 months as an intern in February 2020. Julien is studying software and hardware design at Polytech Sorbonne (Paris, France), mostly orientated on embedded systems. Previously, he was an intern in the Sigfox Hacking House in Paris, where he was working on a project for Total, the French multinational integrated oil and gas company. The goal was to develop a solution to prevent robberies by detecting truck openings, defining location with Sigfox Atlas.
Julien knew about Sigfox from his engineering school.
"Sigfox is part of our studies, each year we studied Sigfox protocol, plus one of my teachers happened to be a Sigfox ambassador and he referred me to the Sigfox Hacking house where I got my chance to get more hands-on experience. Later on, he also provided me with contacts for the hardware manufacturers so I can search for my final internship and eventually I found SimpleHW." -says Julien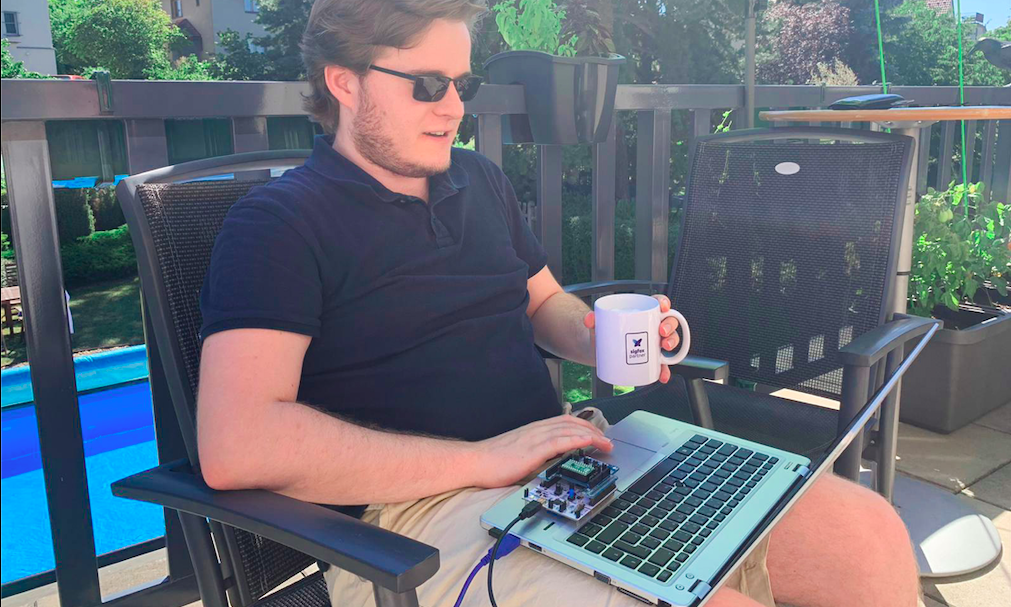 We received a lot of requests from clients to monitor their coffee machines in order to optimize its management, maintenance, and utilization. Therefore we could not walk past such a hot research topic and Julien was very happy to get on board with this use case. 
One client of ours is an Italian company that sells industrial coffee machines for bars, cafes, and restaurants. They want to do predictive maintenance and know in advance when they need to inspect or service the coffee machines. The client's goal is to get statistics on how many coffee beverages are being produced on a daily/weekly/ monthly basis, what type of coffee is being dispensed, plus to classify cleaning processes. 
Therefore Julien is working on two things.
1. Finding an algorithm which will distinguish the types of vibration

2. Finding an algorithm that classifies different types of coffee

The whole process is to identify the perfect configuration and then creating a software app to visualize data. For testing purposes, he makes more than 10 coffees a day in our office. 
"The project is cool and I am very happy to do it, because it suits my skills and knowledge but still pretty challenging and there is space to improve. Perfect level of difficulty. Plus, I can get more experience with both hardware and software, which is great for my future career"
Julien's internship at SimpleHW is also his final thesis project. After finishing his studies he is planning to continue working with the Sigfox ecosystem, grow in his expertise, and improve the world of technology. 
You are always welcome to visit the Simple Hardware office, where you may still be asked 'Do you want a cup of coffee?'